Rens' roasted Oysrí oyster with oyster cream
Rens' roasted Oysrí oyster with oyster cream
Roasted oysri oyster | parsley white wine sauce | oyster cream | caviar | wasabi crunch by @chef.rens Challenging recipes are the specialty of @chef.rens! Will you venture out?
There is a Reel on his Instagram where he totally does the recipe!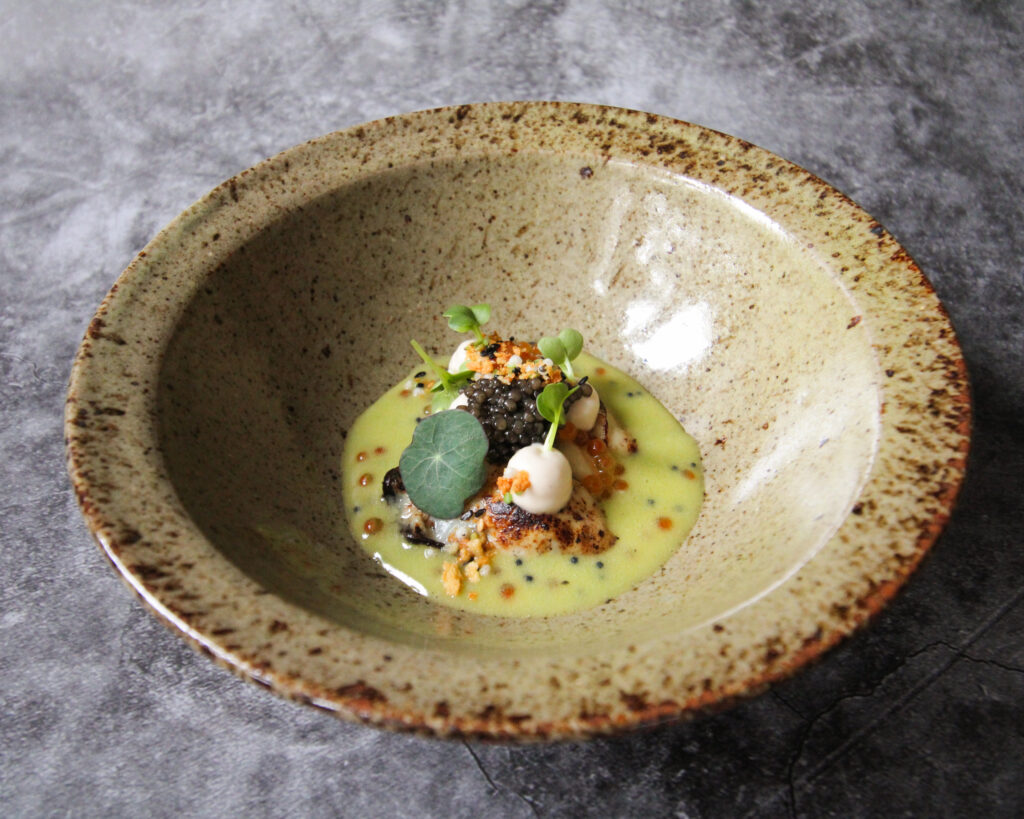 Equipment
Gas Burner

blender

Piping bag

Hand blender

measuring cup

Sieve
Ingredients
Peterselie viskuitsaus
200

gram

onion

in rings

2

tenen

garlic

chopped

30

gram

butter

5

gram

thyme

5

gram

dragon

200

ml

white wine

200

ml

fish bouilon

200

ml

whipped cream

300

gram

buter

2

gram

xanthana

140

gram

parsley

100

gram

fish roe
Oester crème
100

gram

protein

200

gram

yoghurt

50

gram

white balsamic vinegar

300

gram

grape seed oil

250

gram

sunflower oil

4

oysri oysters

1

mandarin
Gebrande oester
Instructions
Peterselie viskuitsaus
Sweat the onions and garlic for 10 minutes in 30 grams of butter

Add the thyme and tarragon and cook for at least 2 minutes.

Deglaze with white wine and boil down to 50 milliliters.

Then add the whipping cream and 300 grams of butter and bring to a boil.

Place the sauce in a (thermo) blender and add the xanthana while rotating.

Now add the parsley and spin on full speed for 2 minutes.

Press the sauce through a very fine sieve or cloth.

Season to taste with salt and pepper.

Finish the sauce per serving with different types of fish eggs if you like it. Without fish eggs, the sauce is also really super tasty!
Oestercrème
Place all ingredients in a measuring cup or stainless steel hat. Let stand for 10 minutes.

In the meantime, poke open the oysters and save the liquid and fruit.

Put your hand blender on the bottom and bar restlessly up, you will see a thick cream forming

Gently mix in the oysters and liquid.

Season with the zest of a tangerine and add salt if you feel necessary.

Strain the cream and place in a piping bag, set aside until use.
Gebrande oester
Poke the oysters open and remove them from the shell. Try to leave them nicely whole so that the moisture stays in the oyster.

Next, grab a tray and place them carefully on it. Burn the oysters with a gas burner until there is a nice color on them. A light glaze will develop.
Notes
Plate making:
1. First, spoon some of the sauce into a deep dish.
2. Then carefully place the roasted oysters on top of this.
3. Spray some oyster cream here and there on the oysters.
4. Spread some caviar over the dish.
5. Finish with micro greens (copper cress) and the crunch of soy and wasabi.
Print Recipe
Pin Recipe