Rens' gebrande Oysrí oester met oestercrème
Rens' gebrande Oysrí oester met oestercrème
Gebrande oysri oester | peterselie wittewijnsaus | oestercrème | kaviaar | wasabi crunch van @chef.rens Uitdagende recepten zijn de specialiteit van @chef.rens! Waag jij je er aan?
Op zijn Instagram staat een Reel waar hij het recept helemaal voor doet!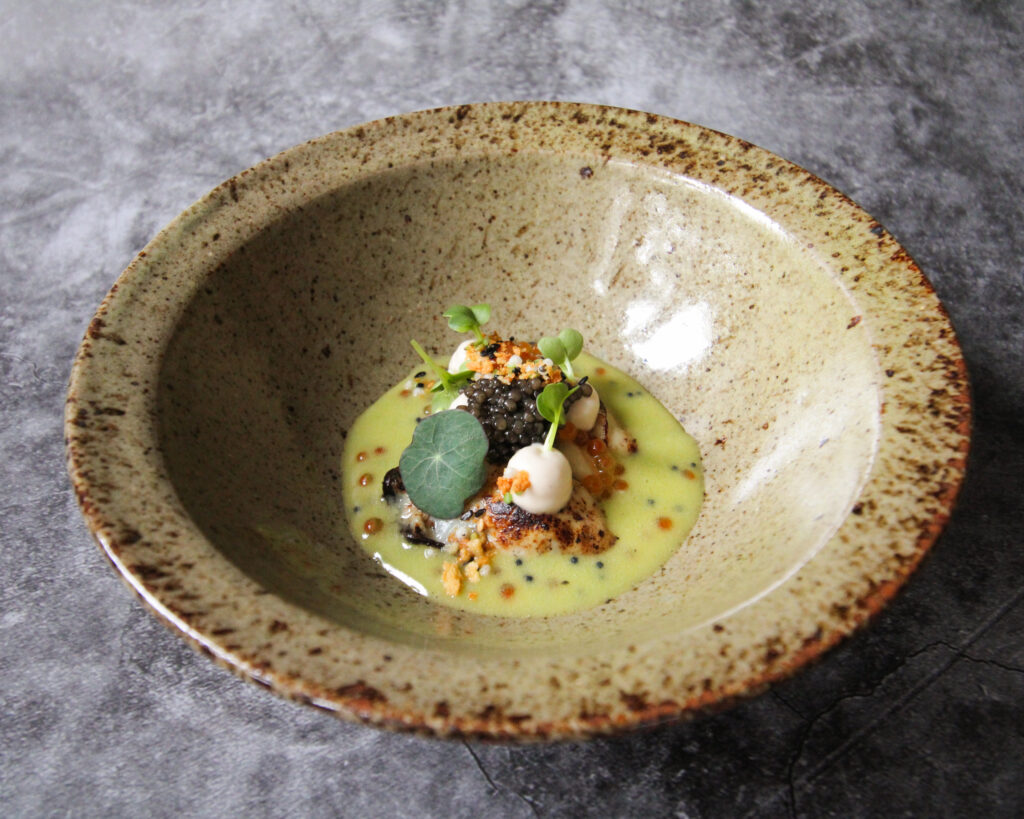 Equipment
Gasbrander

(Thermo)blender

Spuitzak

Staafmixer

Maatbeker

Zeef
Ingrediënten
Peterselie viskuitsaus
200

gram

uien

in ringen

2

tenen

knoflook

fijngehakt

30

gram

boter

5

gram

tijm

5

gram

dragon

200

ml

witte wijn

200

ml

visbouillon

200

ml

slagroom

300

gram

boter

2

gram

xanthana

140

gram

peterselie

100

gram

viskuit
Oester crème
100

gram

eiwit

200

gram

yoghurt

50

gram

witte balsamicoazijn

300

gram

druivenpitolie

250

gram

zonnebloemolie

4

oysri oesters

1

mandarijn

de zeste
Gebrande oester
Instructies
Peterselie viskuitsaus
Zweet de uien en knoflook 10 minuten in 30 gram boter

Voeg de tijm en dragon toe en gaar voor minimaal 2 minuten mee.

Blus af met witte wijn en kook in tot 50 milliliter.

Voeg dan de visbouillon toe.

Voeg vervolgens de slagroom en 300 gram boter toe en breng aan de kook.

Passeer door een zeef.

Plaats de saus in een (thermo)blender en voeg al draaiende de xanthana toe.

Voeg nu de peterselie toe en draai op volle snelheid voor 2 minuten.

Druk de saus door een zeer fijne zeef of doek.

Breng op smaak met peper en zout.

Werk de saus per portie af met verschillende soorten viseitjes als je dat lekker vindt. Zonder viseitjes is de saus ook echt superlekker!
Oestercrème
Doe alle ingrediënten in een maatbeker of rvs-hoedje. Laat 10 minuten staat.

Steek in de tussentijd de oesters open en bewaar het vocht en de vrucht.

Zet je staafmixer op de bodem en staafrustig omhoog, je ziet een dikke crème ontstaan.

Mix de oesters en het vocht er voorzichtig door.

Breng op smaak met de zeste van een mandarijn en voeg zout toe als je dat nodig vindt.

Zeef de crème en doe in een spuitzak, leg opzij tot gebruik.
Gebrande oester
Steek de oesters open en haal ze uit de schelp. Probeer ze mooi heel te laten zodat het vocht in de oester blijft.

Leg op een keukenpapiertje

Pak vervolgens een plateau en leg ze daar voorzicht op. Brand de oesters met een gasbrander tot er een mooi kleurtje op zit. Er ontstaat een lichte garing.
Notities
Bordje opmaken:
1. Schep als eerst een beetje van de saus in een diepbordje.
2. Leg hier vervolgens voorzichtig de gebrande oesters op.
3. Spuit hier en daar wat oester crème op de oesters.
4. Verdeel wat kaviaar over het gerecht.
5. Werk af met micro groentes (koppertcress) en de crunch van soja en wasabi.
Recept afdrukken
Pin recept